It's an open secret that most seniors love taking cool photos now and then, more so when the children and grandchildren are around…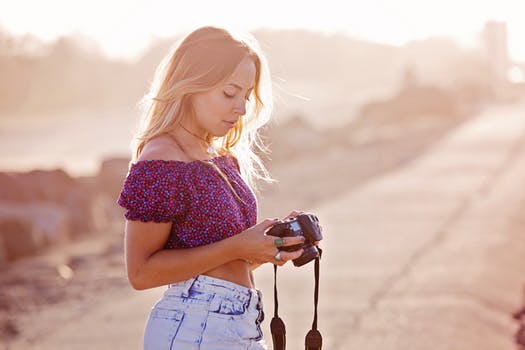 The worst part is that modern cameras are utterly complicated and fail to consider the special circumstances surrounding seniors- and are very far from being labelled an easy digital camera for elderly…
For example, some seniors have limited vision while others may have problems handling complex controls, buttons and dials needed to manipulate a camera to adjust things like aperture or ISO.
But perhaps that's not surprising considering that seniors didn't grow up around technology and computers, so it's natural that they lack these knowledge skills
---
What Is An Easy Digital Camera For Elderly?
An easy digital camera for elderly is nothing else but a simple camera fully designed to help seniors snap away their best moments despite the plethora of impairments affecting them.
A camera for old people should at least be biomechanic friendly meaning it has easier and bigger buttons besides being cognition friendly plus easier to learn.
For sure, the easiest digital camera to use is backed up by the awesome features we find in the best camera for professional photography and can capture images that need precise movements.
Yet, it remains super easy to figure out (and use).
---
What Are The Special Features Of An Easy Digital Camera For Elderly?
A cross-section of our elderly citizenry may suffer a drop in sensory perception, affecting the way they experience important sensory feedback from the buttons and wheel dials.
Digital cameras with tiny, flat buttons are especially terrible as they make it problematic for a senior to push the correct button.
Thus, you should look for a simple digital camera that is biomechanic friendly as it provides an excellent tactile feel thanks to the raised buttons plus wheel dials.
There are even some types with self-explaining software!
Again, you'll need an easy to use camera that takes great pictures with little manual work when taking shots.
To compensate for shaky hands, poor vision, and still produce an exciting selfie, the camera should have basics such as autofocus, image stabilization (more on this later), and automatic light adjustment.
Rarely do seniors enjoy learning how to operate new technology so a simple digital camera for elderly should have simple controls which are easier to grasp and set up.
Some seniors live with conditions that may compromise their natural vision. To this end, an easy to use digital camera should have a large LCD screen to enable them to see the picture clearer.
Professionals recommend that a simple digital camera for seniors should have screens sized not less than 2.5 inches.
That being said, larger LCD screens with a viewfinder are even better as they make it easier for one to see the target clearly with an aging eye.
Some seniors have shaky hand syndrome, so they take blurred photos because of the shaking effect when pressing buttons.
However, an easy to use camera for elderly negates this since it comes equipped with dynamic software that stabilizes their pictures for them and automatically eliminates blurriness caused by shaking.
Clumsiness can be an issue for anyone. However, it's more pronounced in seniors dealing with ailments such as arthritis since they decrease dexterity putting fragile electronics such as the easiest digital camera for seniors at risk.
Fortunately, almost all the top-rated elderly-friendly digital cameras are very durable.
A number are actually waterproof, freezeproof, shockproof, and crushproof so they can stand tall against almost anything.
---
Benefits Of Photography To Seniors.
Crafts or arts are always beneficial to human beings and photography is no exception.
Indeed, photography seems to have some distinctively unusual impact on the overall well-being of the older generation….
It's imperative for elders that their minds are kept busy and challenged as a way of ensuring mental health.
However, researchers have stated that it's not every random activity that helps the brain.  Rather, its mentally challenging and fairly unfamiliar tasks like photography which stimulates the brain.
Certainly, elders improve their cognitive abilities (and memory) as they learn how to take a perfect shot.
Again, as an art, photography boosts problem-solving skills. You see, it's hard to get a single accurate answer for anything in photography and you usually need a bunch of photos to tell your story through photos.
This encourages creative thinking and prompts seniors to create their own out of the box solutions provoking the brain to develop new neurons.
Sharing Photos Could Be Therapeutic
Psychologists contend that interactions between people who share photos often resemble that of caring traditional self-help groups.
By sharing photos and further discussing them with their children/grandchildren, seniors self-disclose and get feedback from their close families and friends
Photo sharing also help elders connect with people who care about them instantly and to build empathy.
Indeed, every time you share a photo with others, you are sharing more than just an image. You are sharing a piece of yourself, your thoughts, your lifestyle, and personality.
Learning to snap off provides seniors a sense of achievement and increases their self-esteem.
They can use the easiest digital camera to use for seniors to take selfies with their grandchildren which can in turn make them feel so proud by the simple reason that they feel they're doing something on their own.
Taking Photos Helps Relieve Stress
Photography can be the perfect distraction from daily thoughts- some of which could be disturbing the peace of mind.
As soon as they get hold of an easy camera to use, and start on their creative endeavor, elders instantly enter into a "state of flow", or "being in the zone".
The more shots he/she takes, the more she becomes absorbed into the art and the further his/her mind travels from depressing scenarios
Photography Diverts The Negative Impacts Of Various Chronic Health Conditions
Chronic health conditions cause stress, anxiety, and ultimately depression in elders.
However, caregivers who expose their loved ones to visual arts (and music) have reported a positive reaction to the psychological health of said people.
Photography reduces the volume of cortisol- the stress hormone- from the blood not to forget that taking photos gives them an opportunity to freely express their feelings.
Again, their minds are also busy and distracted from their illnesses for a while.
---
Types Of Easy To Use Digital Cameras For Seniors.
So, what is the easiest digital camera to use?
Maybe the best way to answer this is by looking at the different easiest digital camera to use for seniors now that the market is teeming with so many options.
1.     Point And Shoot Camera For Seniors
When out there visiting relatives or vacationing, dragging along a massive camera and a set of ten lenses becomes another hard and clumsy task for seniors.
In such a case, simple is simply better. Easy point and shoot camera for seniors are as simple as you can ever find as they take distinctive photos without tiring additions or equipment.
Even better, some are pretty slim and fit in the pocket so you can still hug the family since you don't have additional loads or cases.
Since it slips in the pocket, the Canon SX600 HS (with an Optical Image Stabilizer)is an amazing point and shoot digital camera to take up on the action-packed stage, down on the relaxing lawn or anywhere else with the loved ones!
2.     Cheapest Digital Camera For Seniors
If you are on a budget squeeze, you might be interested in the best cheap camera for photography that is the easiest to use, hold, and control.
Fortunately, there are a number of superb options.
In terms of the easiest to operate and a good screen for viewing and reading, I like the Canon PowerShot ELPH Digital Camera more than any other brand.
Apart from its screen convenience, it has smart auto figures which intelligently find the best shooting mode while reducing the effects of any camera shake.
At the same time, it keeps blur to the minimum. And despite all this, it comes at an incredible price.
3.     Step-Up Digital Cameras For Seniors
Some cameras are designed for grandmas/grandpas who have fallen very much in love with photography and want to step up a notch higher from an older small digital camera.
They are such that they can be used to take sharp photographs even as they gather extensive knowledge about advanced camera use.
A bigger proportion of the cameras in this range such as the Sony DSC-H300 senior-leaning digital camera can also record high resolution video footage of moments and sceneries.
There is also a DSLR-like body, sweep panorama mode, plus the usual expansive screen, and image stabilization.
They're thus perfect professional photography training tools for elders who want to experience more fun with the lenses.
4.     Handycams For Seniors
Digital camcorders are both extraordinary photo cameras cum video recorders. So, the elder doesn't have to take a pixilated image of their beloved dog or record a blurry image during their grandchild's birthday party.
Instead, easy to use camcorders for seniors provide high quality images and recordings of each and every moment in a friendly manner.
They still take care of the mentioned seniors' physiological needs while capturing delightful video footage.
Courtesy of its professional-quality and user friendliness, the Sony HDRCX405 Handycam Camcorder  is my most recommended option.
5.     Digital Single Lens Reflex (DSLR)  Camera For Seniors
At some point, the senior may outgrow the point-and-shoot and DSLR-like cameras. That's when you go out and hunt for a real DSLR camera- and try to kill 2 birds with one stone:
One, you need to have it simpler than normal DSLRs and secondly, just as powerful as the best!
To be frank, these cameras aren't for every elderly person because of their advancement and fit the most "serious" photographers in the market.
Led by Nikon D3300, they push photography skills up a level with their remarkably spectacular images, beautiful backgrounds, and extremely sharp videos.
So, if you want to challenge your older pal to scale, these are terrific!
6.     Mirrorless Cameras For Seniors
Mirrorless cameras are in vogue as far as professional cameras go—they are essentially more compact DSLRs but minus the internal mirror which usually reflects light onto a DSLR camera sensor.
Interestingly, mirrorless cameras capture incredible, higher-resolution photos with lightning fast shutter speeds.
The Sony Alpha a6000 Mirrorless  seniors digital camera has won tons of positive reviews thanks to its recognition accuracy, ease of use and pro features that will give you the best shots.
The camera's auto mode operation lets the elder snap successfully without learning its technical stuff while the accompanying full manual mode permits them to grow into it when ready to explore further.
Mirrorless cameras could be the ultimate gift!
7.     Action Cameras For The Elderly
An action camera for seniors is an easy to use digital camera built to record action while one is immersed in it.
They're typically compact, rugged, and waterproof to allow the user to capture impressive photos (and videos) when riding, swimming, or even climbing.
Such cameras open up more photographic possibilities for adventurous seniors! The GoPro Hero5 4k action camera is the best illustration of how an action camera should be!
8.     Polaroid Seniors' Digital Camera
Some Grandparents prefer a fine Polaroid Camera on the go since it allows them to take and produce quality prints within seconds.
Although a Polaroid film could be very expensive, the contemporary types have a feature that allows the user to save shots in a digital format and have astounding quality.
On top of that, models such as the popular Polaroid Snap Touch digital camera have a feature that enables you to Instantly share your favorite moments with family and friends.
And if you like, you can print 2″ x 3″ photos right on the spot.
Conclusion
An easy digital camera for elderly is the way to go for non-tech savvy seniors who want to capture the best moments with their children and grandchildren.
These cameras deliver shots as good as some of the best professional cameras but are crucially senior- friendly making it possible for our elderly community to dabble in photography despite the special physical and health conditions.
An easy to use camera may also motivate your grandparent to venture into photography which is in itself -as an art- a great pastime for the aged population.
As my editor says, there's no separating a senior, his/her grandchildren, and a good camera when we come to capturing family moments!
---
Other Awesome Resources: