A daybed with pop up trundle for adults can go a long way in 'expanding' your room by creating an additional sleeping /lounging space.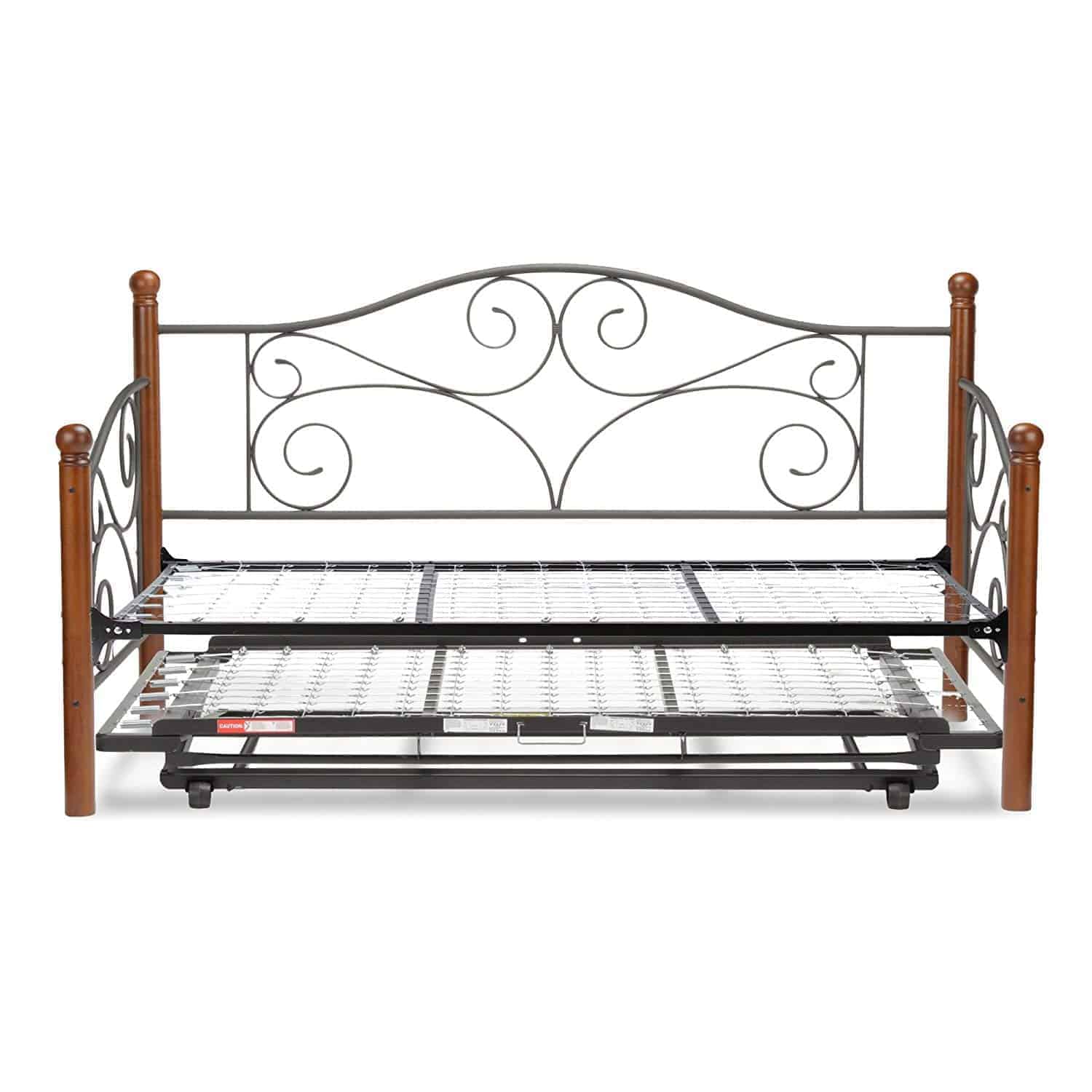 It thus a handy and cost-effective option if your adult visitors like to sleep over or spend more time in your small apartment.
Most models are resolute and hold up really well even when occupied by two people. Daybeds are also favored because of their charming beauty and their ability to brighten your living space with tasteful looks.
And so if you have been grappling with a shortage of space whenever you welcome guests, these increasingly popular pieces of furniture could save the situation.
In this post, I will take you deep into these increasingly popular pieces of furniture…
---
What Is A Daybed With Trundle
A daybed with trundle bed is essentially two beds in one; a standard-height bed plus a smaller trundle bed (on casters or rollers).
The trundle bed rests under the normal bed and is pretty much like a couch/sofa. It's rolled out for use by overnight guests or as an extra bed for kids.
The lower bed has a slimmer mattress so as to fit below the upper bed with its beddings meaning they may not be the best solution for seniors or people with back problems.
---
How Does A Trundle Bed Work?
A daybed with pop up trundle is super-versatile and can serve different cadres of people and in multiple spaces.
As I mentioned, pop up trundle beds for adults slide out from the underneath store on rollers.
Typically, the platform rolling out a sturdy trundle bed is metallic or made of heavy duty timber for more vigor, support and comfort.
Also, because some people feel awkward sleeping close to the floor, some modern pop up trundle daybeds for adults have springs and rise up to the regular height of normal beds.
---
Advantages Of Having A Daybed With Pop Up Trundle For Adults.
A pop up trundle bed takes up a smaller space than two beds and is the industry's greatest option for people living in tiny spaces.
All you need when you have visitors who are sleeping over is to load a mattress that fits into the trundle and invite them for good night sleep.
Plus, you may never need a space-wasting coach/sofa.
An adult trundle bed gives you a cozy sitting coach during the day and serves as a pleasant sleeping space at night time.
It can actually replace normal bunk beds in the guests' room, teen's bedroom, or serve as a coach in your office.
That's not all:
At other times, you can use your trundle daybeds for adults with drawers as a store. Just throw in some clothes, reading magazines, or personal effects in there.
In addition to saving more space, this maintains order within your bedrooms.
Most comfortable trundle beds happen to come in varying designs and spectacular colors. You can hardly miss a pop up trundle bed that matches your décor in the sitting room or bedroom.
You can even make a pop up daybed the masterpiece of your room and base everything else on its design and color to create amazing looks.
A stylish modern daybed with pop up trundle can be upholstered in elegant fabric, carved from appealing wood, or made and finished from cute metal (or cast iron).
A trundle bed with pop up saves your coins in several ways. First, the price of trundle beds for adults is way below what you pay if you were to opt for 2 separate beds.
Secondly, you will not need to buy a welcoming sofa for your visitors.
Additionally, most full size trundle beds for adults use the usual twin mattress used by most beds so you don't need to invest in different bed linen.
Furthermore, your kids will outgrow the full size daybed with pop up trundle saving you the cost of purchasing several bigger replacement beds as they grow up.
Some daybeds with a trundle have wheels that enable you to move these beds to anywhere in your house with little effort when setting it up or when reorganizing your apartment.
You, therefore, save the floor from damage and resulting inconveniences such as ugly scratches.
---
Buying Guide For Daybed With Pop Up Trundle For Adults.
1.     Price
To narrow down, know the amount you're willing to spend on the best daybed with pop up trundle.
You will be limited to your budget making the search easier and convenient.
The market offers dozens of varieties with some great companies selling cheap trundle daybeds as well as high-end products if that's what you are targeting.
2.     Customer Reviews
When choosing the best daybed with trundle, customer reviews can be a good indicator of what to expect in terms of quality.
Make a point of checking the latest as well as older comments on the product as many are honest and can help you decide if it's sensible or not.
3.     Weight Capacity
A number of the best trundle beds for adults are reinforced to support heavier guys and remain comfortable even when being used by plus-size visitors.
Again, since they're all weight rated, check the limits to ensure that you get a bed which doesn't shy away from overweight guys depending on your typical guests.
4.     Interior Décor
Your present furniture and décor matter.
Since you do not want a crash of styles, choose a trundle bed with the style that perfectly complements your existing interior decor.
Just to mention, trundle beds are available in both traditional and contemporary style. You can find it in the good old mission style, Victorian, or sleigh style.
And dozens of others are impressive coming in the latest styles.
5.     Wood Or Metallic?
A full size daybed with pop up trundle can be crafted from any of the materials used to construct a standard bed.
They can be built out of metal, wood or be even upholstered. The material you select will be influenced by your personal preferences, interior décor, and your needs at home.
Metallic daybeds tend to perform better for sleeping, while a wooden daybed with pop up trundle seem more like a sofa and may be perfect as a sit and for lounging.
6.     Mattress
Most daybeds are usually twin-sized and use conventional twin-size mattresses. The daybed mattress is usually supported on link springs or wood slats.
Hand-pick a mattress type that you find most comfortable. The firmness should also be satisfactory.
Memory foam mattresses are an especially well-informed choice since they don't require a box spring.
---
Here Are The Most Comfortable Daybed With Pop Pop Up Trundle.
(The links in this section will lead you to Amazon.com where you'll be able to check the product's price and hundred of customer reviews. Read some of these reviews to gauge the suitability this product before buying.)
1.     Doral Complete Metal Daybed With Pop Up Trundle Frame.
This is one of the most comfortable daybed. The Doral Complete Metallic Daybed's Frame is constructed from a carbonated steel frame to enhance its stability and ensuring it can be used even by oversized adults.
It's then finished with a matte black powder coating giving it the princely looks that make it the center of attention.
Once assembled, the trundle bed seems and feels quite sturdy meaning your overnight guests will be assured of a safe sleeping place when visiting.
I especially love that you can easily raise the trundle bed to the same height as the main bed!
The unit measures 44.75-inches x 81.75-inches x 40.5-inches (HxWxL) and comes with all the essentials needed for assembly.
Well, we have to admit that we would have liked it more if the company simplified the assembly a bit but aside from that, it's a well-done job in this twin daybed with pop up trundle.
2.     Salem Complete Wood Daybed Pop Up Trundle Beds For Adults
Wood certainly looks better than metal in daybeds and that's the case here.
You can't miss this bed's beauty courtesy of its exquisite mahogany finish and smooth sculpting.
In fact, if you are fashion sensitive and would prefer something which drastically transforms your interior décor, then you may as well call off your search!
Coming to its functionality, it's still a sturdy bed seeing that it's not just ordinary hardwood- the frame comes from the best plantation hardwood and feels very solid when engaged.
The bed measures 35.75-inches x 87.5-inches x 39.5-inches (HxWxL) and comes with a euro top while the trundle (whose link springs are included)fits  well within the 12-inch spacing between the daybed base and the floor.
It could be slightly heavier than metallic daybeds but it's by and large a good fit for your petite guest room considering its supportive touch.
3.     Bianca Complete Metal Daybed Trundle Bed Pop-Up Frame
A contemporary type, This Bianca Metal Daybed is another superb option when looking for ways to create supplemental sitting and sleeping slots for your adult guests.
It's quite sophisticated and compelling:
The carbon steel frame is obviously known for its strength. The manufacturer goes ahead to boost it with metal grills for an even more robust feel.
The grills are themselves supported by uncompromising hardwood posts and finally topped up with complex finials for ornamental reasons.
At 45-inches x 81-inches x 40-inches (HxWxL), it doesn't differ much from the doral complete metallic daybed in terms of measurements, has a Euro top deck and fits twin mattresses. Even better, box springs aren't needed.
You can also convert the double twins into a brawny but a comfortable king if necessary.
Despite the complicated engineering, this is one of the easiest to assemble beds and could be a top choice for anyone looking for versatility and reliability.
4.     Fashion Bed Group Complete Metal Daybed with Trundle Bed Pop-Up Frame
If you are looking for a daybed to last for years, then perhaps the Astoria Complete Daybed  with pop up trundle for adults could serve your needs.
A wonderful hybrid between the ultra-modern and the best from classic designs, this carbon steel frame daybed could be awesome even for heavier guys.
The square tube is 1.75-inch in depth while its arms and back converge at an equal 38-inch height forming an immaculately squared profile that's then finished in Champagne-like powder coating.
Just like the Bianca metal daybed, you can raise the trundle to make a great double bed that still holds out great and without losing its irrepressible ultra-modern style.
And while at it, the trundle bed's link spring moves easily so the entire operation is a breeze.
This unit is 38-inches x 79.5-inches x 39.25-inches (HxWxL) though, just like all the rest, it doesn't come with a mattress.
5.     Montana Woodworks Day Bed with Pop Up Trundle Bed
Simple but practical, this vintage wooden daybed is yet another Highly-Rated Daybed with Pop up Trundle option.
Made from genuine pole pine, the trundle bed offers extreme support to the occupant thanks to its shape and sleek features including the well-built poly deck mattress support.
The underneath bed can accommodate even a 7-inches thick mattress and still slide under the daybed. Sturdy poly deck mattress supports included.
This unit is professionally finished in a unique fashion with the premium grade stain augmented with a clear lacquer to deliver stunning looks.
Overall, the balanced construction and its aesthetic quality make it well worthy of a place in your sitting room, office, or bedroom.
6.     Fashion Bed Group Mission Complete Wood Daybed with Trundle Bed Pop-Up Frame
This has welcoming Espresso finishing which coupled with its simplistic design perfectly complements multiple interior décors.
This Daybed also boasts of a super compact design enabling you to install it into almost any of your small rooms.
Importantly, this bed is a lot sturdier compared to most wooden beds at this price level justifying its popularity amongst many consumers.
As usual, it comes with a link spring and all the necessary assembly hardware so you just add a mattress to start using it.
In addition to looking nice in your guest room, the bed is super-easy to put together. Perhaps, the only drawback is that it may not be the best for an obese person.
Conclusion
A daybed with pop up trundle for adults offers a creative way of utilizing your compact space.
It's a cost-efficient bed/lounge for your guests, brings more comfort, and even promotes the interior looks with its stylish appearances.
Plus, it offers additional storage making the guest room more organized.
In short, it's a fantastic solution to the quagmire of how to maximize your room.
Other Awesome Resources: