Adult diapers for old persons come in handy when push comes to shove and you want to protect the dignity of your elderly person.
In a Hurry? Below are the Best Diapers for Seniors:
As people age, certain health conditions start to crop up from nowhere. Some of these diseases include dementia, arthritis, Alzheimer's and many others that render old people practically hopeless.
One of the most common conditions that accompanies all these disease and even just old age is urinary incontinence; the inability of the person to control their urine.
Research has it that half of women over 50 will suffer from urinary incontinence several times a week.
---
What Are Adult Diapers?
An adult diaper or  is similar to the one worn by babies only that it's made for adults so it's big.
Its job is primarily to absorb and hold urine or stool when an elderly person cannot be able to use the toilet anymore due to a medical condition or old age.
Some of the reasons why old people wear adult pampers include;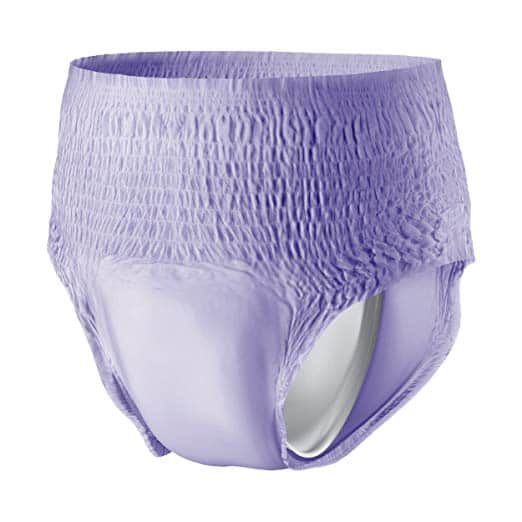 Bladder weakness where the person wants to hold the urine until they get to the toilet but it leaks before she gets there. Others leak when they sneeze, cough and even exercise.
Neurological issues such as dementia and Alzheimer's where the person doesn't even know what they are doing or in some cases they can't move.
Disability – When people become really old, they may not be able to walk or rush to the toilet so they need diapers instead of someone changing their sheets every hour.
In the medical field, adult diapers for old persons are called briefs or incontinence pads and they are worn under the clothes so they are very discreet.
These pads come in various forms including one that looks like underpants, sanitary pad and most of them are just normal diapers.
---
Types Of Adult Diapers For Seniors|Incontinence Diapers For Adults (Elderly)
There are basically three types of elderly diapers for old people and everything else is just a variation or improvement of the 3 types;
Briefs look like most baby diapers in that they are attached by tabs on the side. There are several variations if briefs including cloth-like backing, plastic-backing, refastenable, overnight and day use briefs.
Here is one of my favorite – Depend Real Fit Incontinence Briefs for Men
Pull-up diapers look like normal underwear and you can just pull them up and down when going to the bathroom.
They are suitable for people who are busy and those who can't remember to unfasten the tabs especially dementia patients. Check this one out- Swimmates Disposable Adult Swim Diapers
People who have light incontinence and they are mentally sound can use reusable adult diapers because they can be washed and worn again.
Though reusable diapers for the elderly are expensive to buy, you can wear them over and over again. Here is a great LeakMaster Comfortable and Effective Adult Diaper Pant.
---
Adult Diapers For Men – Incontinence Products For Men.
Most adult disposable diapers in the market are made to be unisex and anybody can use them. However, some companies have taken it a step further by making adult diapers specifically for men.
Having in mind than men may have different needs to women because of the different anatomical build; adult diapers for men may come with a fully-functional fly, wide elastic waistband, built-in protective pouch and a masculine front panel.
On top of briefs and pull-ups, diapers for men also come in boxer shorts with a moisture-proof pouch and built-in floating so the man is comfortable.
---
Adult Diapers For Women – Women's Incontinence Products.
With elderly women being the most affected by urine incontinence, adult diapers for old lady are very necessary.
These women diapers are designed to be highly absorbent so the woman can feel fresh and comfortable for a long time and also prevent vaginal infections caused by warmth and moisture.
Their soft-like material makes them lightweight and comfortable so you feel like it's just regular underwear.
---
What Is Diaper Rash In Adults And How Avoid It?
Despite all the benefits that adult diapers for old age persons bring to both the user and the caretaker, they have one problem and that is diaper rash.
A diaper rash is when the skin around the buttocks, thighs and genitals turn red, sore and bumpy because of the constant contact with the wet diaper.
There are 4 causes of diaper rash in adults;
Staying for too long with the wet diaper until the chemicals in urine and feces burn the skin.
Wearing the wrong size of diapers so it rubs the skin too much due to friction.
Bacterial and fungal growth which is encouraged by wetness and warmth.
Skin sensitivity because most diapers have a lotion meant to keep it fresh and moisturize the skin.
Just like in babies, adult diapers for senior citizens should be changed regularly as soon as it feels wet and immediately after a fecal incontinence and then wipe with a clean wet cloth.
The user must also wash the entire diaper area thoroughly every day and apply an ointment or petroleum jelly to make a moisture barrier.
---
Things To Know Before Buying Diapers For Old Persons.
Apart from deciding whether you want a disposable or cloth diaper, pull up or brief, you also have to choose the best adult diaper for your needs.
With the market flooding with so many brands, what features do you look for in adult diaper for old age persons?
A comfortable fit is what you should go for so the user can go about their day or sleep without thinking about the diaper.
Apart from being dry, the elderly diaper should also be the right size and the right fit for the body shape.
The ideal diaper underwear is one that can absorb a lot of urine without leaking for hours.
However, the level of absorbency you want can be determined by how much urine the person passes depending on how much they drink, health and of course size.
Some people can control their urine to some degree while others cannot at all so that also matters.
Unlike kids, adults don't want people to know that they are wearing diapers or to ruin their style.
The best adult diapers should be very discreet and that is why pull-ups are so popular. When you wear it underneath your pants or skirt, nobody should be able to see that you are wearing a diaper.
---
What Is The Best Adults Diaper for Seniors?
1.     Tranquility Premium Incontinence Disposable Overnight Diapers.
Tranquility Premium Overnight Disposable Diapers (Get it On Amazon.com) are among the best pull up diapers for adults to provide maximum protection and comfort for uninterrupted sleep.
These absorbent pull-up diapers for seniors are able to hold up to one quart of fluid making them suitable to wear on long flights as well.
Features
An ample, full-rise waist panel
Available in six sizes (X-Small, Small, Medium, Large, X-Large (XL), 2X-Large (XXL
Tear-away side seams allow for easy removal.
 Pros
It is soft and gentle against your skin.
Guaranteed skin dryness, odor reduction, urine pH neutralization, and bacterial growth.
The inner leg cuffs channel fluids into the core, helping to contain high volume episodes.
Cons
Feel very heavy when full
---
2.     Confidry Max Absorbency Diapers For The Elderly.
Voted to be the driest diaper ever, these Confidry Max Absorbency Diapers (Get it On Amazon.com) for the elderly enables a previously-unheard of absorption capacity of 2-3 liters.
The leak-proof diapers for adults are suitable for an active lifestyle and undisturbed full night rests.
Features
Dependable leak control system
3d absorbency system to keep your skin dry for hours
Wider tapes for a perfect fit
Front & back elastic waist bands
Pros
Soft lining for comfort & dryer Skin.
Snug fit to prevent rubbing and friction
Odor control PH neutralization.
Discreet and ideal for travel
Cons
---
3.     Abena Abri-Flex Premium Protective Underwear For
Heavy Inontinence

.

Abena High-Quality Pull-Up Pampers (Get it On Amazon.com)  for seniors are among the most popular adult diapers in Europe designed to give users exceptional comfort and dryness.

The overnight diapers for adults have breathable, cloth-like backing that makes the user feel like they are just wearing normal underwear and they guarantee the greatest retention.

Features
latex-free design
leak up guards
four-strand elastic around the legs
wetness indicator
extra tall waist band for protection when sleeping
wide range of users from size 32 to 44
Pros
discreet white color and material
holds a great deal of liquid
impressive absorbency and comfort
Cons
It's not available for very thin people.
---
4.     Abena Abri-Form Comfort Briefs.
Holding true to the Abena brand, these Abri-Form Comfort Briefs (Get it On Amazon.com) have exceptional absorbency keeping the user dry and comfortable for up to 12 hours.
However, these particular types is modeled to fit a wider range of sizes from 28 inches to 43 inches and the tape tabs are refasten able for a snug fit.
Features
leak up guards
wetness indicator
latex-free and non-chlorine bleached
plastic exterior
Pros
discreet white color
absorbs up to 1kg of liquid
fairly affordable
Cons
They are not very breathable
---
5.     Swimmates Incontinence Disposable Adult Swim Diapers.
Old age and urine incontinence should not hold you back from swimming and enjoying life.
These Swimmates Disposable Adult Swim Diapers (Get it On Amazon.com)  are designed purposely for swimming with elastic waist band for easy removal.
Features
inner legs cuffs and leak up guards
latex free
bowel containment
tear away side seams
Pros
easy to wear and remove
discreet form-fitting under swim suit
full-rise waist panel for a better fit
Cons
There is no water-proof outer layer
Conclusion
No matter how bad things get, your elderly person doesn't have to lose their dignity and become a burden.
Diapers for old persons come in very handy and make life easier for the patient and the entire family specially the caretaker.
---
Other Awesome Resources: