Walking is one of the most beneficial exercises for seniors. It's easy on your joints, has a lower risk of injury not to mention that it's super easy to get started.
And now there is even better news: elders who usually experience pain in the ankles when walking don't have to stop thanks to the increasingly popular best shoes for ankle support when walking.
These shoes are upgraded with some exquisite features and help care for hurting ankles and deliver supreme ankle support.
This keeps you on your feet and ensures that you can continue enjoying the best life has to offer despite existing ankle problems.
What Are The Best Shoes For Ankle Support?
The best shoes for ankle problems are made especially for elders with ankle difficulties and provide maximum support in and around your ankles.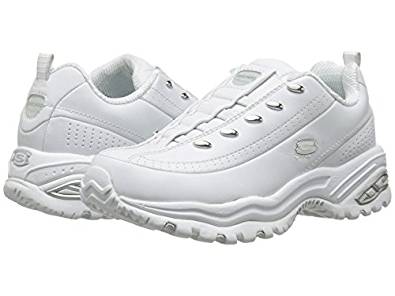 Walking shoes with ankle support have extra tailor-made features providing them with ample ankle support including unique cushioned soles and high backs.
They could be the best bet if you have weak ankles, are recuperating from a serious ankle injury, or just want to treat your feet.
---
Why Do You Need Shoes Or Sneakers With Ankle Support?
There are many reasons why you should consider using the best walking shoes for ankle support when moving about…
Good walking shoes are like tools. Without them correct one, you could hurt yourself and become more prone to serious ankle injuries in future in addition to prolonged feet problems.
Selecting to wear ankle support shoes should be a no-brainer as they also help in maintaining the right walking technique.
You are more likely to walk for more miles, at a better intensity, and to build endurance only when comfortable.
Again, whether you will continue with your walking exercise routine depends first on the benefits and secondly, the fun aspect both of which won't happen when struggling with pain.
Helps With Balance Problems
The extra support offered by these supportive best shoes for ankle support when walking strengthen the muscles surrounding the ankle and can also help seniors who feel unsteady or lose balance when walking for one reason or the other.
Importantly, this reduces the chances of a fall.
Diabetes can make scratches and sores around the ankles slow to heal. Sneakers with ankle support aid your ankles, arches, and minimize shock and shear.
Your feet are likely to heal faster while remaining protected from blisters, calluses, and painful ulcers.
Helps With Edema And Swelling
Edema typically affects your feet, ankles and of course, lowers legs.
The hallmark of edema treatment is elevating your legs to combat the swelling. However, mens ankle support shoes and women's shoes with good support also gradually help redistribute fluid back to your blood vessels.
---
Best Walking Shoes For Men With Ankle Support.
A lot of elderly men do much more walking than they ever realize. Mens walking shoes with ankle support ensure optimized ankle health and comfort while getting around.
An outstanding pair of men's walking footwear with ankle support may prevent his feet from getting calluses, blisters, and even corns.
​And while they may differ slightly in design, some like the Skechers Sport Men's Walking Velcro Sneaker are notable due exceeding supportive features including a lugged outsole, collar, and padded tongue.
The shoe also comes at a fantastic price and has the looks to turn heads where you go.
Another pair to win favor from an increasingly high number of men is Dr. Comfort William Men's Casual Walking Shoe. It's not only great in soothing your ankle but it's also an excellent therapeutic shoe with all the comfort features that seniors love such as an extra depth and a seamless padded lining .
---
Best Walking Shoes For Women With Ankle Support.
Specialty ankle supporting shoes for women come in all styles and are distinctly fashionable.
Apart from prioritizing fashion, womens shoes with ankle support have the entire modifications essential to offer intense support including centralized support and comfort insoles.
Some are medicare-approved diabetic shoes, have leather construction, and a simple slip-on design in addition to coming in feminine colors such as pink, white, and tan.
Skecher's Women's D'lites Lace-Up Sneaker is one of the best ankle support shoes womens shoes.
---
Types Of Walking Shoes With Ankle Support.
1. Orthopedic Walking Shoes Ankle Support
Seniors may need orthopaedic shoes enhanced with ankle support if they have any of these challenges:
Extremely wide bunions, toe or foot deformity, an open sore, a severe foot injury or any neurological disease affecting their feet.
The more abnormal the foot mechanics, the more likely he/she will find orthopaedic shoes remedial.
Seniors' orthopaedic shoes (with supportive features around the ankle) match the mechanics of the foot, ankles and legs.
A number of these orthopedic shoes for ankle support, for example, the Orthofeet Proven Pain Relieving Plantar Fasciitis Shoe have more medically beneficial features including a well-rockered midsole and outsoles to help elders walk normally.
2. Walking Boots With More Pronounced Ankle Support
While they may not be as hardy as the heavy leather boots of your youth, there are some impressive walking boots purposed for elders with ankle problems.
Most manage to remain light because of innovative constructions and unique materials and could help you conquer various trails safely.
Softer grippy outsoles, cushioned mid-soles, improved in-soles, arch support, and better break-in are common occurrences in these boots.
Orthofeet Plantar Fasciitis Walking Boot is full of innovative comfort features making it comfortable even for diabetics.
3. Walking Sneakers For Painful Ankles
Traditionally, sneakers are one of the most popular shoes for walking. Since they care for the feet and ankles, you can always walk with the best sneakers for ankle support without fear of worsening an injury.
They also help prevent further harm to your ankles when walking on rough surfaces for longer periods of time.
Sneakers like the Skechers Men's Lace-Up Sneaker are very comfortable making them a superb choice even for people with disabilities.
Throw in the fact that it can accommodate a variety of orthotics for improved balance and you start seeing why this shoe has always been a best seller.
The Women Version of this sneaker comes with an incredible shock absorbing midsole.
4. Waterproof Ankle Support Walking Shoes
The most prominent benefit of ankle supporting waterproof walking shoes for seniors is that they always keep the feet dry.
Unlike traditional walking shoes which come with a light mesh upper, the waterproof varieties are made with special lining to block water from getting into the shoe when strolling and soaking the feet.
As a result, the feet remain comfortable and dry even during winter conditions.
Because his/her feet is dry and warm, elders will have fewer excuses not to go out and get fresh air as they can exercise even when the wet months rolls around.
Some like the Watelves Men's/Women's Snow Winter Waterproof Shoes are boots and are skid-resistant thanks to their robust rubber sole and feel more supportive to the joints and ankles.
5. Motion Control Ankle Support Walking Shoes
If your elderly parent overpronates, they will not only need shoes with ample ankle support but also firm shoes to help correct their gait and reduce the risk of injuries which can arise from overpronation.
Heavier walkers with ankle issues and who overpronate especially gain from motion control footwear as they are super sturdy.
If you see excess wear on the interior side of your shoe's sole, you could need motion control walking gear.
The durable New Balance 928 has been a favorite motion control shoe for many walkers with ankle problems because of the additional arch support.
Its sister, the New Balance 928v2 carries the trophy for women.
---
Buying Guide For The Best Shoes For Ankle Support When Walking
Unsurprisingly, not many walking shoes are made with ankle support. And so the best you can do is to understand all the features before venturing into the market..
A stable shoe minimizes your chances of avoiding an ankle injury. Midsoles bring more stability and decreases pressure besides returning more stored energy putting a 'spring' into your step. They also lower the force of impact as you step down.
A number of shoes for weak ankles have great midsoles so your work may be easier.
The best sneakers for weak ankles should fit snug. The tongue should go beyond fitting proper and provide additional comfort.
You should avoid shoes which tend to slip or are overly large as it reduces the level of support they accord the knee conversely increasing the risk of an ankle injury.
Instead, insist on a pair with a fitting tongue and maximum snug effect.
The greater the cushioning, the better the support. You will have a reduced load rate and less impact, and minimal discomfort.
Furthermore, enhanced cushioning promotes natural gait to say nothing of alleviating any pain in your heel.
Orthotic Support Features
The presence of a premium orthotic insole, anatomical arch support, and exclusive features promoting feet's natural state such as a counter-balancing heel pad should sway your decision.
Similarly, shoes with orthopedic appliances designed to straighten the ankle surpass their peers in performance.
Lastly, when you wear walking shoes with orthotic support, you may experience a better sense of balance courtesy of the wider support platform.
A wide toe box removes pressure on hammer toes and bunions. If you have such troubles, you would well off with walking shoes featuring a wide toe box.
The combination of the wide toe box and correct toe spacers in footwear is also extremely helpful in shielding the feet and knees from problems that affect many trekkers while on long trips.
Wearing wide toe box ankle support shoes while walking is an active method to rehabilitate the feet plus toes and restore an elder's toes to their practical anatomical shape and natural alignment.
The best shoes for weak ankles should supply abundant ankle support without compromising airflow.
In case you've forgotten, having wet feet may cause trenchfoot due to sweat and can also cause blisters among other ills.
And it's not only in the summer- a breathing foot is always healthier.
To save you the hassle of having to make repeat purchases as you chase a long-lasting pair, you should weigh the overall quality of the pair you feel can suit your aged parent.
From the fabric, soles, velcro and every other component, the best quality materials and construction will save you money and stress that comes with shoes which tear up within a few months.
Some manufacturers have a tendency to produce very interesting shoes. For instance, some add secret pockets for holding valuables like the smartphone, keys, ID, cash, and even medication.
Others are enhanced with no-slip solid grip making them skid resistant while yet others are waterproof.
Such features could be handy depending on your lifestyle.
If your loved one has an extra-large feet or swollen ankles, he/she is best served by the shoes with ankle support purposed for elders with oversized feet.
Unlike 'normal' shoes, these have a wider entry and are spacious inside making them easy to put on/off and also to live with.
Elders appreciate lightweight shoes since they are easier to walk in.
Some of the walking shoes with ankle support use the latest technology and materials and generally weigh less.
If you want to walk for longer or stay on your feet the entire day, such shoes would be a great option.
Round-up
The best shoes for ankle support when walking could be the key to a better experience for seniors who love walking, one of the best exercises for elders.
They help the ankles to relax making an evening stroll a comfortable affair and something to look forward to daily.
Similarly, mens ankle support shoes and women's shoes with good support can help your ankle injury to recover quickly, reduce swelling due to edema, and improve your balance when walking.
In a nutshell, your suffering ankle could soon be a thing of the past if you invest in a shoe with good ankle support.
---
Other Awesome Resources: