You see them in hospitals and other medical care facilities. However, adjustable beds for elderly people are not limited to healthcare facilities and you can also have them at home.
Their increasing popularity is thanks to the continuous innovation and development to making adjustable beds not just good for elderly people but everyone who uses them.
In a Hurry? Below are some of the Best Adjustable Beds for Seniors and the Elderly:
What we will look at here are the pros and cons of these beds without forgetting to recommend the best adjustable beds in the industry. But first, the definitions.
---
What Is An Adjustable Bed?
An adjustable bed is bed whose lying surface or base is multi-hinged to make it possible for different parts of the bed to move independently to different positions.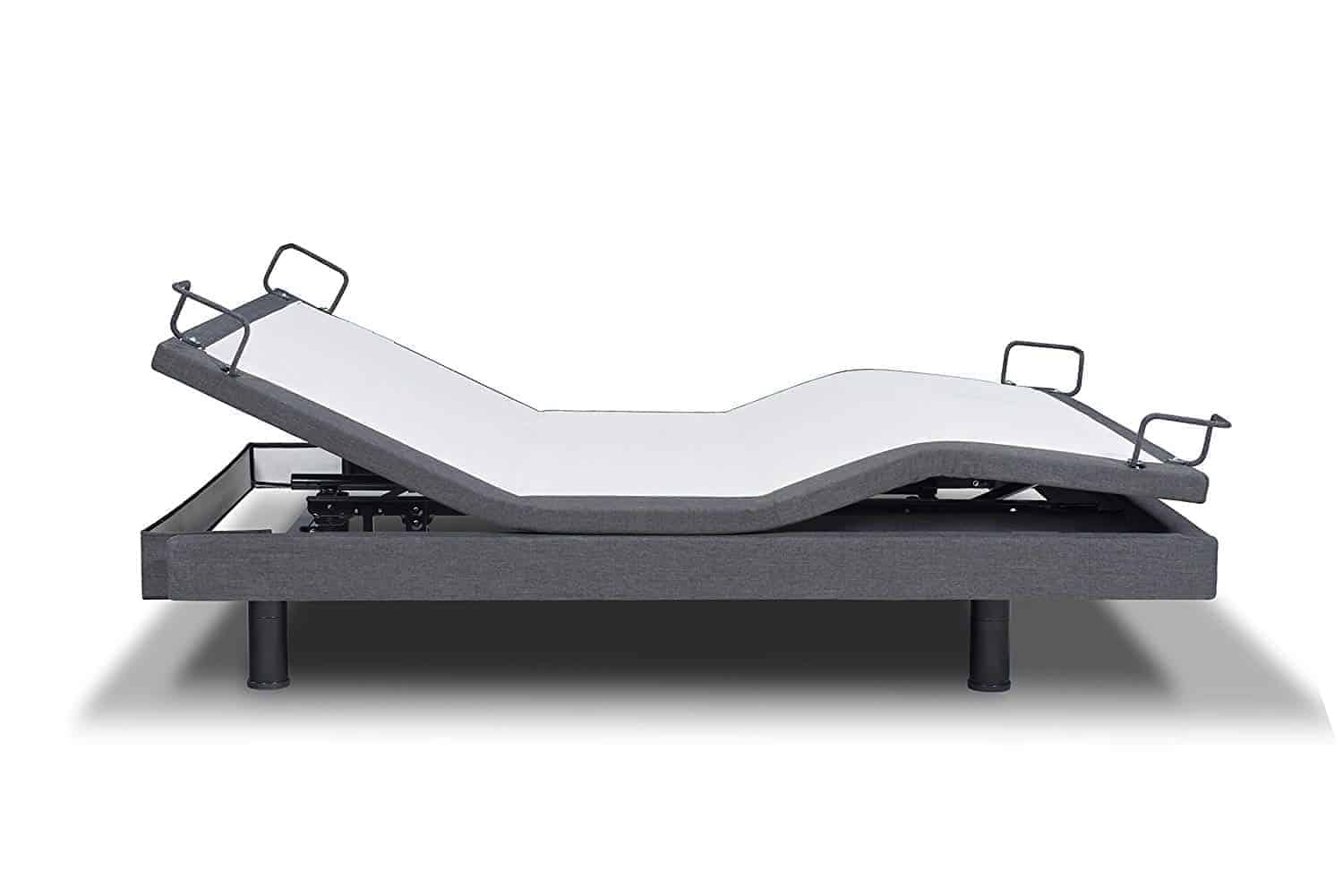 The most common adjustments include lifting up the upper body or the lower body but there are many other inclinations you can do with it.
This kind of bed allows more sleeping positions than you can count and you can even raise the entire base with a click of a button.
Fortunately, todays adjustable beds don't look as ugly as those hospital beds you have seen; they are beautiful, well-built and you wouldn't know they are adjustable until it moves.
---
Benefits of Owning an Adjustable Bed to Elderly People.
Additional Comfort
An adjustable bed helps you to look for more sleeping positions until you find the best one by lifting up the upper or the lower side of the bed.
This works best for people with back pain, injured legs or any other type of body discomfort.
Ease Of Getting Up
When you are old or in pain; getting up from a flat position in bed is extremely hard. However, when you lift up the upper side of an adjustable bed, you will be able to get up, change positions and even sit upright without struggling.
This brings a level of independence because you don't have to ask for help every time to get out of bed.
Better Air And Blood Circulation
Lying flat on the bed is not exactly ideal especially when you are older. It creates a restriction in blood and oxygen flow and many people struggle to breathe.
With a slight lift of the adjustable bed, your body will be raised in such a way that both oxygen and blood circulate from head to toe by keeping the airways open.
Cases of feeling lightheaded when you get up or not breathing well can be solved by such a bed.
Alleviate Sleep Apnea And Acid Reflux
When you are lying flat, a lot of pressure and weight is placed on your head which blocks the windpipe. Snoring and sleep apnea occur because of this blockage which can be sorted out by a simple incline.
On the other hand, acid reflux happens when stomach acid moves to the esophagus and causes heartburn and discomfort on the throat.
When you incline your bed, all the acid will remain in the stomach and you won't experience acid reflux and disruption in sleep.
Fall Asleep Faster.
Old people suffer from disrupted sleep patterns and even insomnia. In many cases, they had already slept during the day so falling asleep again doesn't come easy.
However, when you raise the bed just a bit the best comfort level, your body will be too uncomfortable not to fall asleep. You can also be watching some television in that position as you wait for sleep to come.
---
Disadvantages of Adjustable Beds.
Too Costly
Due to the mechanics involved and the quality of metal used, adjustable beds are quite expensive.
It is common to find a simple adjustable bed ranging between $2000 to $5000. On top of that, you have to buy a mattress that can also be adjusted and those are also quite costly.
High Maintenance
Again the mechanics of adjustable beds are pretty complicated and they require constant maintenance.
Such a bed comes with a motor, joints and buttons that control the movements. The cost of maintaining those components so they can continue working efficiently is quite costly and it has to be done regularly.
Heavy
Did you know that an average adjustable bed weights about 625 pounds while a regular bed can't go beyond 175 pounds?
What this means is that you can be able to move the bed and you have to conform that your floors can handle that weight. It's also very difficult to clean and make an adjustable bed.
---
Different Types of Best Adjustable Beds for Seniors.
There are different types of adjustable beds depending on your needs, budget and aso how many people are sleeping on that bed;
1.   Single Adjustable Beds
A single adjustable bed moves as a whole unit. This means that when you adjust one part, everything moves together and you can't separate the components.
This kind of bed is good if you are sleeping alone or for couples who have similar sleeping positions because they will find comfort in the same inclination.
2.   Dual Adjustable Beds
A dual adjustable bed is like several beds in one. Every component is independent from the others and it can be able to move on its own.
For example, you can move the lower part only to raise your legs up or one partner can elevate their side only. It is suitable for couples because you don't have to settle for the similar positions.
3.   Pragmatic Bed
Most adjustable beds come with all the components assembled including the adjustable frame and mattress.
A pragmatic bed however is just a simple bare bone frame with motor and legs. You need to buy a mattress and other things for it but it is quite affordable.
4.   Upgraded Adjustable Beds
Over and above having the ability to incline; upgraded beds come with other features like massaging ability, anti-snore function, heated mattress, Bluetooth and all sorts of technological features meant to make the bed more comfortable and convenient.
These beds are quite expensive to buy and also to maintain.
---
Top Adjustable Bed Brands.
1.   Leggett & Platt.
This company has been around for 125 years making quality adjustable beds.
The company takes pride in their comfortable yet simple beds that are easy to use and also very affordable.
The ShipShape is their top of the range model with dual motor whisper quiet motor.
2.   Reverie.
Reverie is a formidable brand when it comes to upgraded adjustable beds since 2003.
The brand is known for their wide range of choices though their main beds include Deluxe, Essential plus and Supreme.
These beds are endowed with a range of features from massage, Bluetooth and others with a price ranging from $900 to $3000. The Reverie 7S is quite a powerful and popular model.
3.   Classic Brands.
Since their days as the leading producer of waterbeds in the seventies, classic brands have grown to be makers of the best mattresses and bed frames.
Their adjustable beds are among the most innovative and comfortable beds in the market and they are designed to fit perfectly with their adjustable mattresses.
4.   LUCID.
Beds for the whole family' is what you see when you open the LUCID website. Their wide array of beds, adjustable bases, mattresses and other bedding have all received 5-star reviews from customers.
Apart from the many choices to choose from, their prices are just the best and everything is made to exacting standards.
5.   Hofish.
The Hofish adjustable bed is an affordable frame that only takes three minutes to put together. It may not come with all the bells and whistles that other expensive beds come with but it sure is beautiful and durable.
The German frame bed features a mattress platform made of solid wood Eucalyptus slats and a top upholstered area for durability and integrity.
6.   Pragma Bed.
Better sleep begins with the foundation' is the motto of Pragma Beds. While you may invest in the best mattress in the world, it is the bed frame and the foundation under the mattress that really keeps you safe and comfortable.
Pragma Bed adjustable frames are high end and can be set up in minutes with no tools required. You can order the beds on all major online stores like Walmart and Target.
7.   Serta.
Serta has been known for their high quality messes but they have ventured into upgraded adjustable beds over the years.
Their main models that include Motion custom, Motion signature and Motion perfect come with speakers, USB outlets and all other features found in upgraded beds. However, their prices can be quite up there.
8.   Dynasty Mattress.
Despite being fairly new in the industry, dynasty mattress has made incredible headway because of their high quality and very affordable reclining beds for the elderly and mattresses.
The good thing about Dynasty Mattress is that it's an online store on its own and you can get your comfortable beds and mattress directly from them.
Add that to their 30-year warranty and 30-day free trial period and you have the dream combination of quality and durability.
---
Factors to Consider When Buying the Best Adjustable Beds for Elderly People.
Buying adjustable beds for elderly people takes a bit of research in order to know what you are looking for. These features will kick start you on that complicated journey;
All adjustable beds come with an electric motor that helps it to rise up or go down.
However, there are two types of motors; AC and DC. AC motors are run directly by electric power and they use quite an amount of energy.
DC motors are battery powered so you only have to charge the battery and don't consume much energy.
Be sure to understand what kind of a motor you want depending on cost, maintenance and noise because AC motors are quite noisy and expensive.
How easy is it to change the positions of the bed and make adjustments?
If the controls are on the bed, it should be easy to reach and see them without struggling.
However, the best adjustable beds come with easy to operate remote controls that are close at hand so you just press the buttons and the bed moves.
With upgraded beds, you can use your smartphone to control the bed as long as it's easy to understand.
Warranties And Customer Support
Adjustable beds have various moving parts that need maintenance and are prone to malfunction.
It is therefore very important to buy from a reputable brand that gives one or two year warranty of the bed and parts because anything can happen.
Customer support is also crucial in case you want to ask something about the bed.
Just a bare minimum adjustable bed can set you back $800 with or without a mattress.
However, if you want a bed that comes with extra features like voice assistance, USB ports, massage, and speakers and so on, you may need to cough up some more cash.
It's important to evaluate how much money you have planned for the bed and if the extra features are really worth the extra bucks.
How much weight can the motor lift comfortably? Ideally, you want a bed that can be able to lift as much weight as possible. The weight in this case includes the base and the people sleeping on it.
On average, a king size adjustable bed can lift up to 600 pounds which is pretty good. If the bed is forced to lift more that its capacity, it will consume more power or worse break down.
Conclusion
Choosing one of the best adjustable beds for elderly people is no easy task even when you know what you are looking for.
However, with the right guidance from reputable manufacturers and retailers, you will be able to find something suitable for your loved one. Be sure to get the perfect adjustable mattress to go with the bed also.
---
Other Awesome Resources: